New Misa Kitara-like
Moderator: Moderators
Re: New Misa Kitara-like
That's a nasty nest of caps there

And what's that thermistery thing doing?
Folderol


Jedi Poster

Posts: 14922 Joined: Sat Nov 15, 2008 12:00 am Location: The Mudway Towns, UK

Contact:
Yes. I am that Linux nut.
Onwards and... err... sideways!
Re: New Misa Kitara-like
They all go the same way. The general consensus is that the touchscreen goes bad, but the part is no longer available and no-one's ever figured out if there's a compatible alternative. So if the piezo trick doesn't work I think it'll need gutting and starting again.
https://aliexpress.ru/item/2055851748.h ... 4376593901
Re: New Misa Kitara-like
*sigh*
Oh dear; this Misa Tri-Bass is such a sickly child.
* * * * *
Capacitive touchscreens are a horrible amalgam of glass, LED displays and digitisers, glued together in a sandwich. Something goes wrong with these old discontinued ones, but the jury's still out on exactly what.
It looks like chronic "ghost touch" to me; the thing seems to detect multiple touches when there aren't any. There are various hacks for touchscreen ghost-touch issues. Some involve hairdryers (passim). These melt the glue between the layers. You might then try pressing them together, or pulling them apart. I tried hairdrying it until it was hot to the touch and applying pressure, which did nothing. I'm waiting on delivery of a suction cup to try pulling them apart.
Another alternative is piezo; YouTube videos abound of people torturing touchscreens with oven lighters. I tried this yesterday but it seems to have done more harm than good; I can't even turn the thing on at the mo. I'm going to try leaving it on charge for a few hours.
Rebuilding could be a challenge. Construction details are vague. The best source of information is probably the
patent
, which reveals that the mechanism for reading the fret sensors is based on scanning and I2C. But exactly what and how are anyone's guess; it would probably be easier to start over.
If I can turn it on again, I've discovered there's a mode of operation which is still available, and which reads note-on/note-off from the fretboard with no need to interact further with the epileptic display. I could work with that. Just need to turn it on again. If I can't get the Misa logo by the end of the w/end I might try Synth Restore.
Re: New Misa Kitara-like
This is my last post on the Kitara, just to wrap things up in case any wandering MIDI minstrels stumble across the thread.
I don't know if they'll ever release a new one, but I reckon all the old ones go the same way. If you find a working one, you should be prepared for it to develop screen flicker at some point.
Capacitive touchscreens are tricksy things. I've tried all the home remedies to no avail; I've subjected it to hairdryers, oven lighters, pressure and suction, and none of it has made any difference. The "tails" are hard to handle; no compatible digitisers can easily be found, and you'd need considerable expertise to adapt a different type.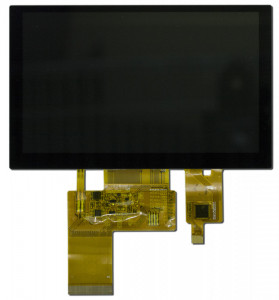 Rebuilding it entirely would be difficult because even the fretboard scanning is complicated, inaccessible and undocumented.
* * * *
I've rationalised it like this. Consider a vintage Alpine White Les Paul. Over the decades, they take on a dirty cream colouration. But nobody minds that.
Likewise, the Misa Tri-Bass takes on its own vintage characteristic, in the form of a defective, epileptic screen. But via the "fretboard trigger" mode, it's still possible to wring some notes out of it. And in a perverse way, I still like it.
The 'button' fretboard implementation makes it possible to play polyphonically on a single 'string' in a way that's not possible with other approaches. But although other button types are available, like the Ztar, the touch-sensitive capacitive approach is nice (even without the sensitivity upgrade; I've given up on ever acquiring the cable) - and it's unique in that respect.
This is a dumb "look it flickers but it still works" demo showing that with a bit of MIDI note filtering there's life in the old dog yet. (The mode that enables you to play via the fretboard also has flickering touchscreen pads playing other random low notes you need to screen off.) Some day I'll do something musical.
https://www.youtube.com/watch?v=KN3LtEhRdKQ
Re: New Misa Kitara-like
Thanks for the wrap-up, I enjoy your explorations quite a bit

resistorman


Frequent Poster

Posts: 1878 Joined: Sun Nov 22, 2015 12:00 am Location: Asheville NC
"The Best" piece of gear is subjective, and just because it's old and called "vintage" doesn't mean it's any good.
Re: New Misa Kitara-like
I know I said I wasn't going to post any more about this. I lied. But...
the legendary blue cable
arrived today! I've spent years, travelled round the world, trying to find one of these.
It came in a ridiculously large box, with an optional accessory...
...another Tri-Bass.
This one has "ghost touch", like the first. But as I've said, they all do. Or will all do. It's predestination.
I don't care about that; I have a workaround via note filtering on the red screen. But the firmware update has become a bucket-list experience for me, and I've got another shot.
Re: New Misa Kitara-like
OK, this really is the end.
The firmware upgrade actually worked. I wish you could have seen it. It was old school, like spewing out Linux or something on the PC's console window. The fretboard plays way better now. Happy days.

So, time to move on to the next thing on the bucket list...
...oh...no, that was it.
resistorman


Frequent Poster

Posts: 1878 Joined: Sun Nov 22, 2015 12:00 am Location: Asheville NC
"The Best" piece of gear is subjective, and just because it's old and called "vintage" doesn't mean it's any good.